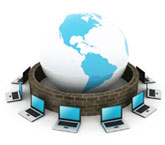 Servers are the lifeblood of your business network, which is why server problems can cause such a disruption in your business day-to-day activities. When a server stops, so does business as usual. AE COMPUTERS, LTD IT Solutions has technicians who are experts in all aspects of server setup, installation, diagnosis, repair and maintenance, as well as complete network and server support.
AE COMPUTERS, LTD provides you with an assessment and implementation roadmap of your network and servers, and documents milestones and improvements. Whether your business has a simple Microsoft Server or Linux server or a more complex server solution such as Unix, Sun Solaris, or Microsoft Advanced Server, our certified technicians can support your environment. Are you running VMWare or VMWare ESX to Virtualize all of your servers into one redundant server cluster? AE COMPUTERS, LTD's Server and Network Administrators can effectively build and maintain your server infrastructure solution.
AE COMPUTERS, LTD provides your company plenty of flexibility with server and network support services. We can be onsite with your team or work from a remote location where we combine our people, process, and remote tools to ensure your business operations function as expected. We help you monitor the strengths and weaknesses of your network and servers, as well as determine any configuration changes that may be necessary.
AE COMPUTERS, LTD delivers and supports your network, servers and SAN through a certified team and adherence to ITIL standards. We offer valuable service in assuring that your network, servers, and storage devices are running at peak performance. Our network and server support management frees your team to focus on more strategic business projects.