We are recognized as a great dedicated Leader in the Desktop services and support Outsourcing Services in Chicago Land
No matter what size company you are managing, computer support is one service that you will always need. Whether your company has a single location or offices all over the country, AE COMPUTERS, LTD makes it easy to resolve a service call.
Servers are the lifeblood of your business network, which is why server problems can cause such a disruption in your business day-to-day activities. When a server stops, so does business as usual. AE COMPUTERS, LTD IT Solutions has technicians who are experts in all aspects of server setup, installation, diagnosis, repair and maintenance, as well as complete network and server support.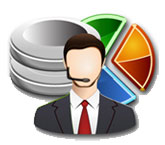 AE COMPUTERS, LTD works with you to develop a customized PC support program that meets your criteria for superior Desktop support. Our desktop support and break-fix services are best-in-class and provide you with increased uptime for end-users, increased productivity, and significant cost savings.
Our service offerings for Desktop support ranges from warranty repair to premium service levels with less than one-hour resolutions for your most critical business functions. Our regional and local management structure provides the additional focus necessary to quickly respond to your needs.
AE COMPUTERS, LTD's solutions can be either a dedicated or shared resource engagement depending on your resolution needs. Our National Dispatch Center is open 24×7 to open your incident ticket and arrange for a technician to be there as quickly as possible or for remote desktop support.
We have approximately 32 highly trained and experienced Desktop engineers with other local resources available statewide to provide break/fix support on PCs, laptops, printers, and peripherals. We have all certifications and authorizations with every major technology vendor including Dell, HP, Lenovo, Lexmark, OKI, and many others.
Our computer support services provide you with business process improvement, high levels of customer service, and lower costs in managing your desktop repair needs.